Royal Kludge RK84 Pro VS Royal Kludge RK84
The Royal Kludge RK84 Pro aluminum mechanical keyboard has outstanding build quality. In this comparison, the RK84 vs Rk84 Pro, we find out which Royal Kludge keyboard is the best for your money.
RK84-PRO & RK84 Box Contents
1 x 

RK84 PRO keyboard or 

1 x 

RK84 keyboard

Some switches

1 x  keycap puller and switch remover combination

1 x 

User Manual
2 

x

 add-on keyboard feet with magnets on the bottom

1 x 2.4 Ghz Dongle

1 x Type-C Cable
Design of Royal Kludge RK84 PRO & RK84
The RK84 Pro with the aluminum bottom is a lot heavier than the typical Royal Kludge RK84. Both keyboards look pretty similar although RK84 PRO not quite as wide because it doesn't have the detachable frame. So Basically, they have the same design. The typical difference is  about the weight. RK84 PRO is quite a lot heavier. Probably a third heavier more than RK84 keyboard due to the the aluminum base.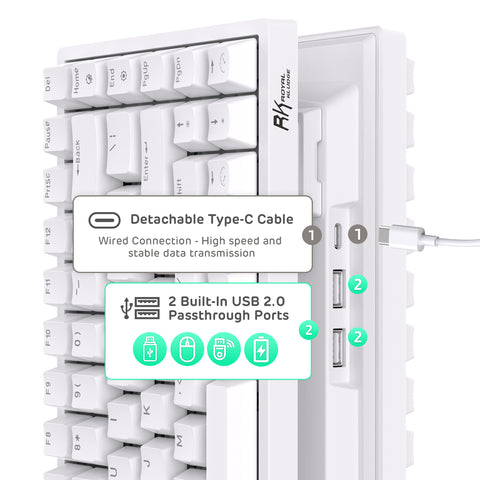 The RK84 keyboard features two USB passthrough ports while there's no powered usb port of PRO so you're paying more and they took away from you. However, holding the RK84 PRO is a totally different experience. The case is sturdy and nice. 
For the keycaps, these are the exact same keycaps for this much more money. It will be great if RK84PRO comes with different higher quality keycaps. 
Typing Experience
The overall sound is definitely way better on the pro. And the stabilizers are actually different. The normal RK84 is not quite as nicely lubed as this PRO. That's probably the biggest difference with the actual sound of it. When you get these switches off, the pcb is exactly the same, which means the rgb is probably going to be exactly the same as well.  It's not the brightest in the world however it's not the dimmest in the world. It's good in a dark room in a super bright environment. 


Is the RK84 PRO worth the money?
Both of the keyboards are great to mod especially the RK84 PRO with the metal base. The PRO is heavy and definitely has a more substantial sound.  And the build quality is absolutely on point. As for the price, the RK84 PRO is only like 90 bucks or 100 bucks and the typical rk84 is about 80 bucks so i would definitely pay 20 bucks more to have a quite a bit more substantial keyboard.
If you are going to mod, the RK84 PRO should be a superior keyboard to this normal one. I would definitely like to paint the metal to black rather than the
silver natural finish. There is no logo on the bottom of the keyboard, which is also great to mod your own keyboard.